The art of hospitality is a key success factor for companies. It is the secret ingredient that keeps the customers and employees coming back to a brand and speaking highly of it. For those who would like to develop this sought-after expertise, the ITHQ offers a fully bilingual and innovative action learning training course.
Admission
Until August 1
Until November 1

Duration
3 years full-time (regular track)
Diploma
Applied Bachelor in Management (Appl. B. M.)
Overview
The first Applied Bachelor's degree in Management to be offered in Québec, this training course focussed on hospitality, customer experience and employee experience will allow you to develop both interpersonal and operational skills. Much more than a classic management program, it will make you a proactive leader who focusses on human factors to achieve their goals.
Program key elements
Training focussed on hospitality, customer experience and employee experience
Courses equally offered in French and English
Practice-based teaching: case studies, real issues, business tours and meetings with professionals in the field
Two internships, one of which is done abroad
Experienced and passionate instructors
When being human pays off
From the beginning of their training, I tell students to embody their role as managers. I invite them to ask themselves how they will exercise their leadership; how they wish to define themselves as leaders.
What you will learn
Become a positive leader in the hospitality field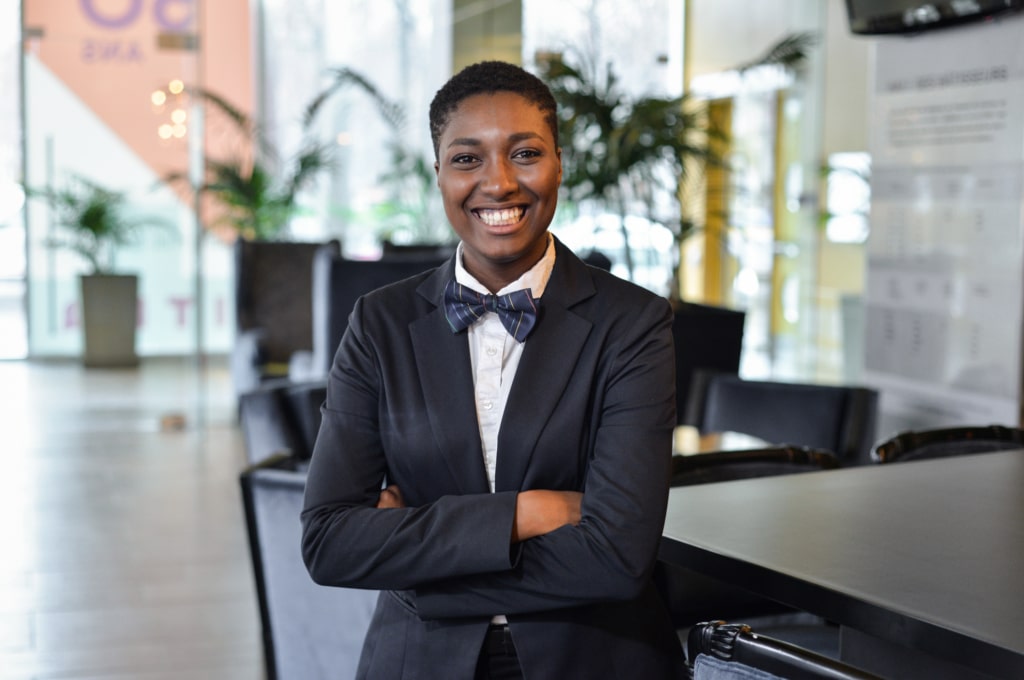 Program structure and courses
Duration and schedule
94-credit program beginning in the fall and winter of each year 
Offered on a full-time or part-time basis
Spread over 3 years for the regular track (8 consecutive sessions)
Daytime and evening courses
Hands-on experience
Compulsory internships:
Two paid or rewarded summer internships of 5 months each (675 h), one of which is done abroad
Practical applications:
Throughout the training course: practical applications in the ITHQ hotel and restaurants as well as in various businesses in Québec hospitality industry
Diploma
Undergraduate Degree: Applied Bachelor in Management (Appl. B. M.)
Articulation agreement
Graduates of the following technical programs (DCS) may obtain course recognition for this program:
Techniques de gestion hôtelière (430.A0) – 10 recognized courses
Gestion d'un établissement de restauration (430.B0 ) – 10 recognized courses
Techniques de tourisme (414.A0) – 10 recognized courses
Gestion de commerce (410.D0) – 5 recognized courses
Techniques de gestion et d'intervention en loisir (391.A0) – 3 recognized courses
Prerequisites:
Have a minimum R-score cut-off of 26 and meet all program admission requirements to access this credit transfer process.
Studying in an applied bachelor's degree is quite different from other lectures I've taken in university. At the ITHQ, the courses are interactive. Professors put us in real-life situations and push us out of our comfort zone. This allows us to experiment, to debate, to see what works and what doesn't. To learn to think for ourselves. Just like in real life! To me, this is the best way to learn and is one of the great strengths of this program.

Admission
Admission application periods
Admission requirements
To be eligible for this program, you must:
Demonstrate proficiency in oral and written French and English: refer to the Required language proficiency page for more details.
Have completed successfully a college-level math or accounting course.

Successful completion of this course must be verified by the beginning of the second session of enrolment in the program. 
You must also meet one of the following conditions: 
Hold a Diploma of College Studies (DCS) with a R-score cut-off of 24, OR
Successful completion of university-level courses with content deemed appropriate for this program totaling at least 15 credits, with a 2.5/4.3 GPA, or equivalent, OR
Hold a diploma obtained outside Québec after at least 13 years of schooling, OR
Be at least 21 years of age, possess appropriate knowledge, have a minimum of 6 months of relevant experience (850 h) and have interrupted your full-time studies for at least 2 sessions, excluding the summer session.
Not sure if you meet all the admission requirements?
There are conditional admission options for this program. Make an appointment with a member of our team to learn more.
Required documents
Applicants must meet all of the requirements of their chosen program and provide all required documents. Incomplete or late admission application file will be considered ineligible.
In order for your file to be considered complete, be sure to upload legible copies of all official documents required by your status in PDF format.
Documents that are not in French or English must be accompanied by an official translation in French or English.
Costs and financial aid
Program fees
Use the program fee calculator to find out about the costs of this program.
Financial aid and scholarships
Looking for financial support for your study project? Find out about the different options available to you.
Future prospects
A cutting-edge sector in full development
Companies are increasingly looking to provide an exceptional customer and employee experience to distinguish themselves from the competition. With this program, which is unique in Québec, you will have access to a wide range of management positions in sectors such as hospitality, restaurant services, recreation, conventions and travel as well as financial services, information technology, retail, health and education.
Admission assistance
Need a hand?
Any questions?
[email protected]
514-282-5110
or toll-free at 1-800-361-5111, ext. 5110