Do you enjoy creating all kinds of desserts and dream of making a living out of this passion? Learn the fundamental techniques and take the first step in the wonderful world of professional pastry making!
Admission
Mid-January to March 1
September 15 to November 1

Duration
18 months full-time (1 800 h)
Diploma
Diploma of Vocational Studies (DVS)
Overview
This hands-on training course will allow you to perfect your skills and excel in the art of pastry making. From making choux pastry to croissants through chocolates, ice cream and macarons, you will not only learn how to make a wide variety of desserts, but also how to create your own.

A rich and tasty program
Bakery, pastry, chocolate and plated dessert courses
Two internship placements, one of which is 3 months full-time
More than 1 000 hours of practical workshop experience
Access to high-quality products and state-of-the-art equipment
Experienced and passionate instructors
Does the art of pastry-making provoke your fantasy world? Unleash your culinary creativity!
What you will learn
Become a gourmet dessert pro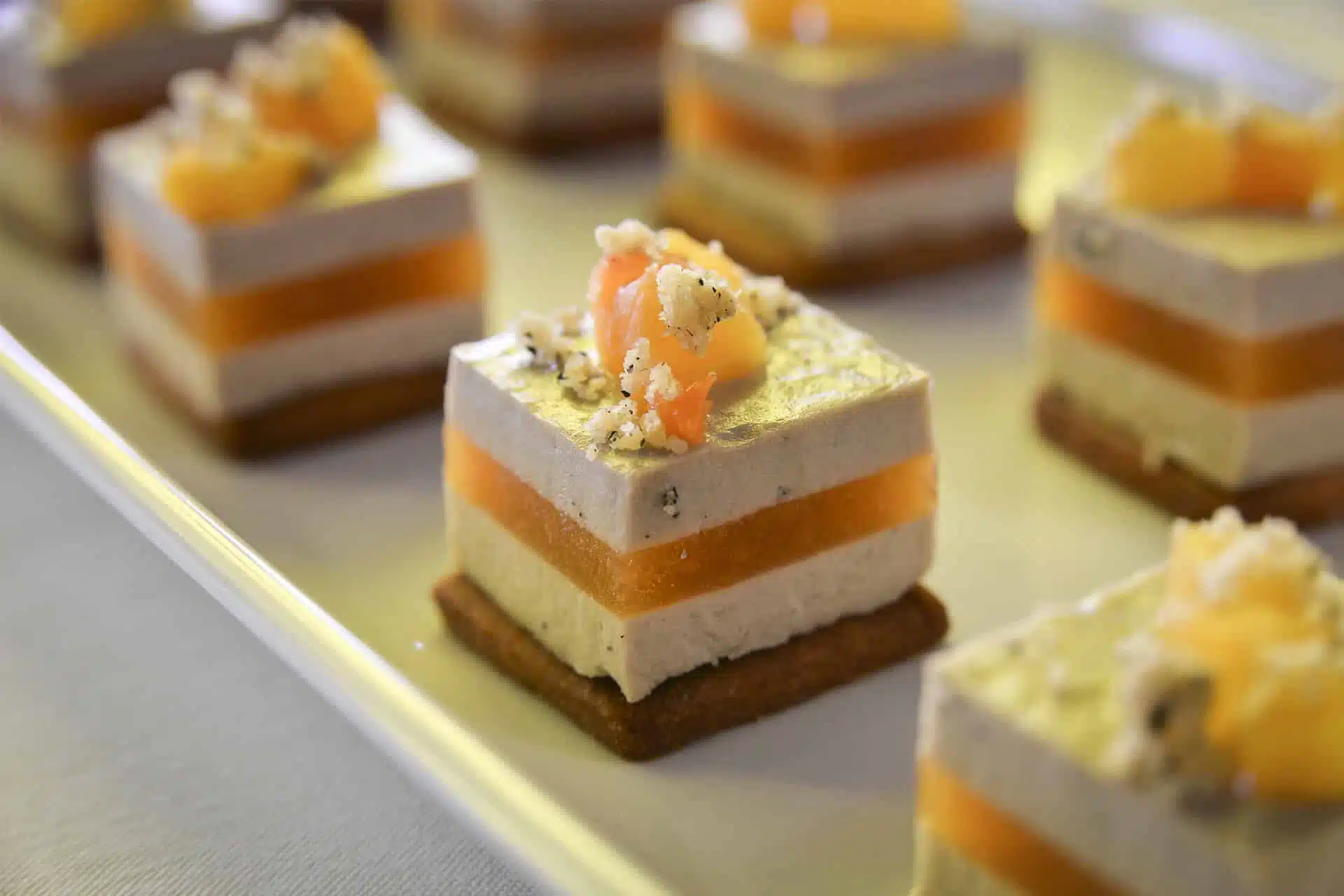 Program structure and courses
Duration and schedule
Program starting in the fall and winter of each year
Spread over 18 months on a full-time basis (3 course sessions, 1 summer internship and an end-of-program internship)
Includes a total of 1 800 hours, including 1 305 hours of coursework and 495 hours of compulsory internships
Practical courses offered in the morning or in the afternoon, theoretical courses offered outside this time period
Hand-on experience
Compulsory internships:
3 months paid or rewarded summer internship (390 h) in a pastry shop, bakery, restaurant or retail business in Canada or abroad, subject to obtaining the required visa
End-of-program internship of approximately 3 weeks (105 h)
Practical applications:    
More than 1 000 hours of practical workshop experience
Participation in various gastronomic activities
Diploma
Diploma of Vocational Studies (DVS) in Pâtisserie from the Ministère de l'Éducation
ITHQ Signature certificate in Pâtisserie professionelle 
Food Handler certification in hygiene and food safety from the Ministère de l'Agriculture, des Pêcheries et de l'Alimentation du Québec
Admission
Admission application periods
Admission requirements
To be eligible for this program, you must:
Have a Secondary School Diploma (SSD) or equivalent education, OR
Be at least 16 years of age and have successfully completed your Secondary 5 French (or English, if you studied in English), Second Language (English or French, as the case may be) and Mathematics courses, or equivalent education.
Demonstrate proficiency in oral and written French: refer to the Required language proficiency  page for more details.
Required documents
Applicants must meet all of the requirements of their chosen program and provide all required documents. Incomplete or late admission application file will be considered ineligible.
In order for your file to be considered complete, be sure to upload legible copies of all official documents required by your status in PDF format.
Documents that are not in French or English must be accompanied by an official translation in French or English.
Costs and financial aid

Program fees
Use the program fees calculator to find out about the costs of this program.
Financial aid and scholarships
Looking for financial support for your study project? Find out about the different options available to you.
Future prospects
The Pâtisserie professionnelle training course may lead you to work in a food store (pastry shop, bakery, chocolate shop, ice cream shop or confectionery), in a restaurant, hotel, catering service or, perhaps in your own business. If you appreciate teamwork and are not afraid of atypical schedules, you will certainly find your happiness in this creative field!
Admission assistance
Need a hand?
Any questions?
[email protected]
514-282-5110
or toll-free at 1-800-361-5111, ext. 5110