Are you dreaming of overseeing the operations of a high-end restaurant, or perhaps
one day opening your own establishment? Thanks to this program, you will have
everything you need to start your career with confidence and credibility in this exciting
field!
Diploma
Diploma of College Studies (DCS)
Overview
Focussed on the fine restaurant services industry, this training will allow you to develop
solid management skills, an in-depth knowledge of culinary culture as well as a real
operational expertise.
Also offered in other CEGEPs
Our partnered educational institutions
Program key elements
Hands-on management training course focussed on fine restaurant services
Hands-on experience in all aspects of the restaurant business: management, kitchen, service, sommelier and bar service
Three internship placements, including one in English immersion in Canada
Action learning in the ITHQ's restaurants
Experienced and passionate instructors
Give yourself the means to achieve your ambitions!
What you will learn
Proactivity, flexibility, versatility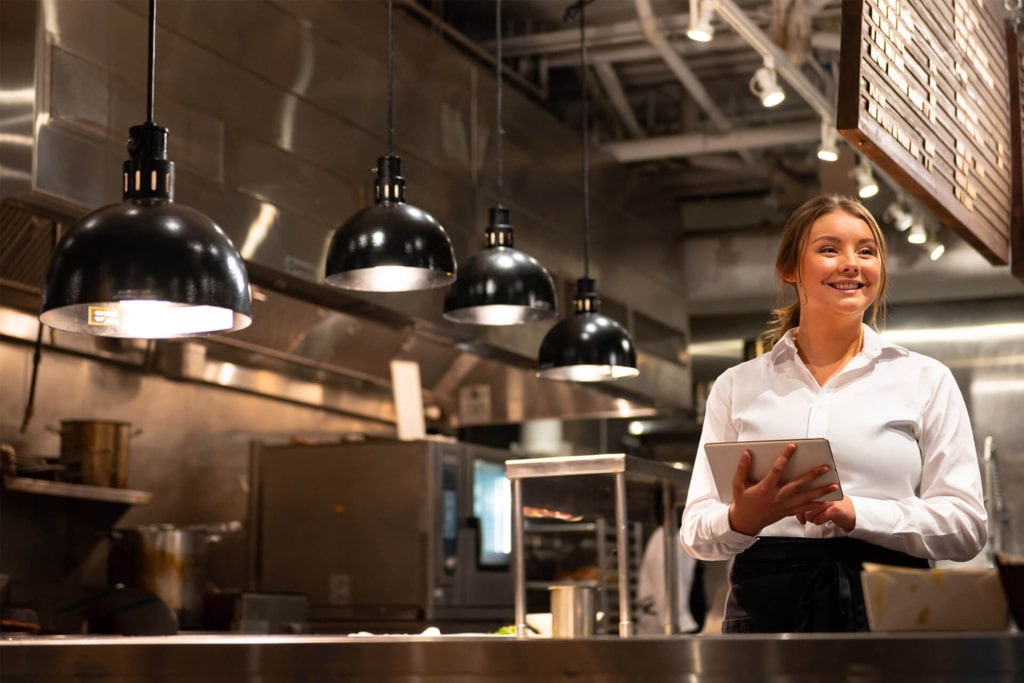 Program structure and courses
Duration and schedule
Program starting every year in the fall
Spread over 3 years old on a full-time basis (6 course sessions and 2 summer internships)
Includes a total of 3 595 hours, including 2 550 hours of coursework and 1 045 hours of compulsory internships
Daytime classes
Educational outings and practical applications taking place according to variable schedules (day or evening)
Hand-on experience
 Compulsory internships:
4-month paid summer internship (415 h) in English immersion outside Québec (in cooking or service)
3-month paid summer internship (390 h) in Québec (in cooking or in service)
6-week unpaid end-of-program internship (240 h) in restaurant supervision
Practical applications:
Throughout the training course: practical applications in cooking, service, sommellerie, bar service, etc.
Practical courses at the ITHQ's restaurants
Participation in various gastronomic activities
Diploma
Diploma of Collegial Studies (DCS) in Gestion de d'un établissement de restauration from the Ministère de l'Enseignement supérieur
ITHQ Signature certificate in Gestion d'un établissement de restauration
Food Handler certification in hygiene and food safety from the Ministère de l'Agriculture, des Pêcheries et de l'Alimentation du Québec
Attestation of completion of the Éduc'alcool Action Service program
Admission
Admission application periods
Admission requirements
To be eligible for this program, you must:
Have a Secondary School Diploma (DES) or equivalent education, OR
Have a Diploma of Vocational Studies (DVS) and successfully completed the Secondary 5 language of instruction courses, the Secondary 5 second language and Secondary 4 mathematics courses (Culture, société et technique CST 4e – 063404 or equivalent).
Demonstrate proficiency in oral and written French: refer to the Required language proficiency page for more details.
Required documents
Applicants must meet all of the requirements of their chosen program and provide all required documents. Incomplete or late admission application file will be considered ineligible.
In order for your file to be considered complete, be sure to upload legible copies of all official documents required by your status in PDF format.
Documents that are not in French or English must be accompanied by an official translation in French or English.
Costs and financial aid

Program fees
Use the program fee calculator to find out about the costs of this program.
Financial aid and scholarships
Looking for financial support for your study project? Find out about the different options available to you.
Future prospects
Challenges for qualified managers
The restaurant services industry is constantly renewing to better meet the needs of its
customers and the realities of the market. In order to successfully navigate this ever-
changing environment, those who wish to pursue a career in this field have everything to
gain from a solid training.
Admission assistance
Need a hand?
Any questions?
[email protected]
514-282-5110
or toll-free at 1-800-361-5111, ext. 5110