Are you passionate about the world of wine and gastronomy and would you like to make it your profession? This ITHQ exclusive program matches the learning of high-end service techniques of service and the knowledge of the fascinating world of wines and spirits.
Admission
Mid-January to March 1
September 15 to November 1

Duration
21 months full-time (2 105 h)
Diploma
Diploma of Vocational Studies (DVS)
Attestation of Vocational Specialization (AVS)
Overview
From wine and spirit making and tasting to the art of service and customer experience, this comprehensive training course will make you an accomplished sommelier-waiter or waitress well-prepared to work in the finest restaurants.
Key elements of the program
ITHQ exclusive combined diploma (DVS in Service de la restauration and ASP in Sommellerie)
Three internship placements, including one in English immersion in Canada and two in France: in a vineyard and in a Michelin-starred or Relais & Châteaux restaurant
A week of wine tours in France or Italy
Visits to local producers and artisans
Master classes with wine experts
Action learning in the ITHQ's restaurants
Experienced and passionate instructors
Quench your thirst for knowledge!
What you will learn
Learn to know, learn to do, learn to be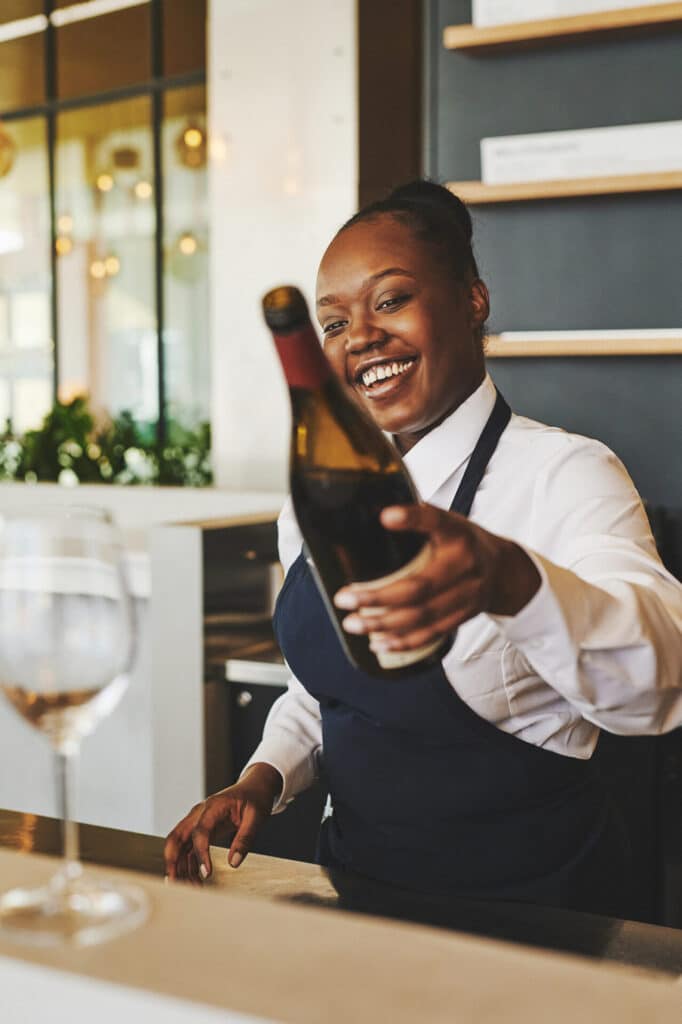 Program structure and courses
Duration and schedule
Program starting in the fall and winter of each year 
Spread over 21 months on a full-time basis (4 course sessions and 4 internships)
Includes a total of 2 105 hours, including 1 200 hours of coursework and 905 hours of compulsory internships
Daytime courses and practical applications in the evening
Hands-on experience
Compulsory internships:
4-month paid internship (415 hours) in English immersion, in Canada or abroad
3-month rewarded internship (385 hours) in a high-end establishment (Michelin starred, 4 or 5 star hotel restaurant, Relais & Châteaux, Grandes étapes françaises or other), mainly in France, subject to obtaining the required visa
Rewarded internship of approximately 3 weeks (105 h) in a vineyard, mainly in France, subject to obtaining the required visa
Participation in a week of wine and gastronomy skills development in France or Italy
3-week unpaid end-of-program internship (110 h) in the Montréal area
Practical applications:
Practical courses at the ITHQ's restaurants
Participation in sommelier competitions and various gastronomic activities
4-week synthesis activity at the ITHQ
Diplomas
Diploma of Vocational Studies (DVS) in Service de la restauration from the Ministère de l'Éducation
Attestation of Vocational Specialization (AVS) in Sommellerie from the Ministère de l'Education
ITHQ Signature certificate in Formation internationale en service et sommellerie de restaurant
Food Handler certification in hygiene and food safety from the Ministère de l'Agriculture, des Pêcheries et de l'Alimentation du Québec.
Attestation of completion of the Éduc'alcool Action Service program
Recognition by the Canadian Association of Professional Sommeliers
Admission
Admission application periods
Admission requirements
To be eligible for this program, you must:
Have a Secondary School Diploma (SSD) or equivalent education, OR
Be at least 16 years of age and have successfully completed your Secondary 5 French (or English, if you studied in English), Second Language (English or French, as the case may be) and Mathematics courses, or equivalent education.
Demonstrate proficiency in oral and written French: refer to the Required language proficiency page for more details.
Required documents
Applicants must meet all of the requirements of their chosen program and provide all required documents. Incomplete or late admission application file will be considered ineligible.
In order for your file to be considered complete, be sure to upload legible copies of all official documents required by your status in PDF format.
Documents that are not in French or English must be accompanied by an official translation in French or English.
Costs and financial aid

Program fees
Use the program fee calculator to find out about the costs of this program.
Financial aid and scholarships
Looking for financial support for your study project? Find out about the different options available to you.
Future prospects
An exciting and rewarding job
Of all the trades in the restaurant industry, the sommelier-waiter or waitress position is one of the most financially rewarding. And even if money is not your primary motivation, it is still an important factor to consider if you want a lasting career in the field of gastronomy.
Admission assistance
Need a hand?
Any questions?
[email protected]
514-282-5110
or toll-free at 1-800-361-5111, ext. 5110